WESTERN REGIONAL OFFICE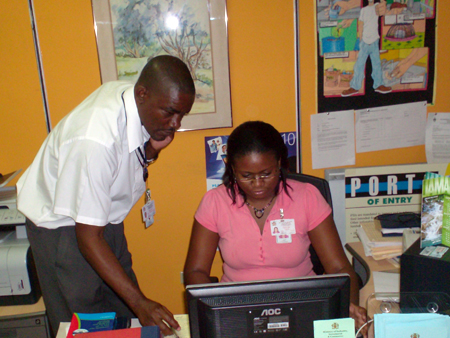 FSPID Inspectors Scarlett and Trowers in the FSPID's Western Regional Office in Montego Bay
The Food Storage and Prevention of Infestation Division officially opened its Western Regional Office on February 29, 2012. This office has, however, been in operation since May, 2007. The office is located on the second floor of the UGI building at 30-34 Market Street.
Senior Food Storage Inspector Owen Scarlett mans this office assisted by Food Storage Inspectors Kimberly Trowers and Kirkpatrick Windross. They are responsible for inspections in the parishes of St. James, Westmoreland, Hanover and Trelawny.
You may contact this office at telephone numbers (876) 952-2060 and (876) 564-1780.
FSPID Officially Opens Western Regional Office